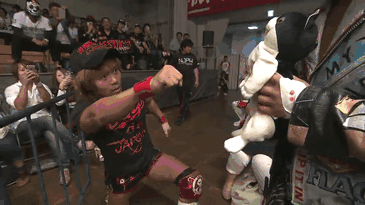 Going to edit in an explanation to this one, just incase you're wondering. It's Hiromu Takahashi and his stuffed cat Daryl Takahashi fist bumping Tetsuya Naito...
I'm a Takahashi mark already after the iwgp junior fatal 4 way from Wrestle Kingdom. I haven't seen him win a match yet though haha. I thought he'd be on a good push.
And Naito is fantastic. He's the next guy facing Jericho at some point.... He's got a real x factor.